---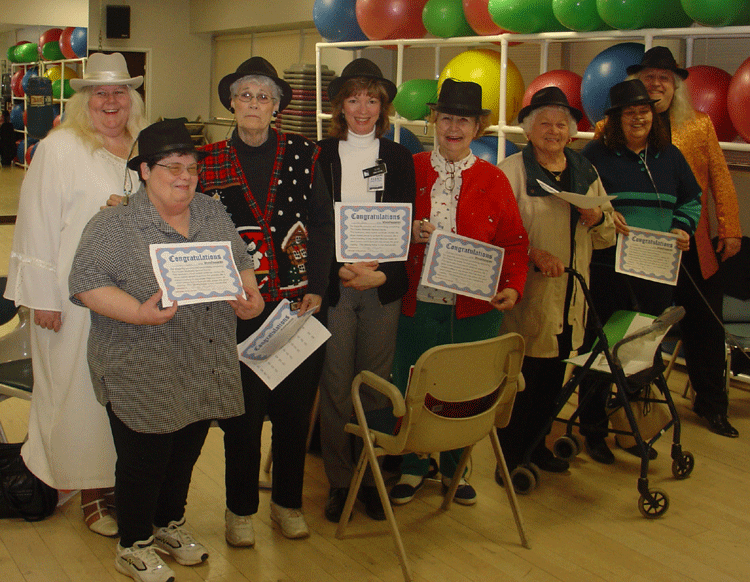 &nbsp &nbsp &nbsp The Chronic Harmonics program was created in 2001 in cooperation with Foote Hospital in Jackson Michigan. A patient (Ellar McClinton) of the respiratory unit was interested in taking harmonica classes and she suggested it to the nurses. Sue Bullinger in charge of programming for the respiratory unit, did some research and then contacted Cindy Hayden and shared the idea to bring harmonica classes to the hospital. That was the beginning of The Chronic Harmonics.
&nbsp &nbsp &nbsp The first class was in excess of 25 patients and what a great group of people. These students are hand picked to attend this class; they must first pass the hospitals criteria for Chronic Obstructive Pulmonary Disorder (copd). Copd patients have a gamut of difficulties ranging from asthma to cancer to lung transplants. One thing they all have in common is difficulty in breathing.
That is where our harmonica classes come in. The class meets for 16 weeks (one hour a week), Tom Fuller and Cindy Hayden teach these wonderful people how to play all types of music on the harmonica, from arpeggio scales to 12 bar blues. Some of the classes have even written their own songs. At the first class each person receives a harmonica and learns simple skills ie; how to hold the harmonica, play a single note and care of the harmonica. Each week they have a mystery tune to try and solve. Not only are these classes great fun and help with breathing therapy, but over time each of these folks become our friends. The classmates become bonded and worry when one person is absent for the day. The final class is graduation day, each student receives a certificate proclaiming them as official "Chronic Harmonics", they receive a music related gift and I must say that emotions run high that day, mostly because classes have ended. But the friendships that are made during the 16 weeks are ever lasting.
&nbsp &nbsp &nbsp Over the past 3 years, there have been 3 generations of Chronic Harmonics. Each group creates their own name, to date we have had the Chronic Harmonics, The Breathless Wonders and the Windjammers. I can't wait to see what the next class will decide on.
&nbsp &nbsp &nbsp Theses classes have been honored in the local newspaper, local TV and several newsletters across the state. The greatest publicity came in Jan 2005 when the Global Initiative for Chronic Obstructive Lung Disease an international organization which educates and promotes awareness of copd recognized our program on their website. Please take a minute to check it out. World COPD Day When you get there, click on World copd day, United States, Foote Hospital and check out the 1st picture.
These classes are designed to benefit the patients but I enjoy it as much as they do. Thank you Ellar McClinton for thinking of this idea, you are in our hearts daily, we miss you.
&nbsp &nbsp &nbsp If you are interested in bringing this program to your hospital or health care center, please give us a call. Happiness must be shared, smile at someone today.