&nbsp &nbsp &nbsp My name is Tom Fuller and I have been interested in graphics design for a number of years, partly due to a genuine love of the many-faceted genre, but equally out of necessity, due to my involvement with various projects that needed attending to.

Website Developer
&nbsp &nbsp &nbsp As a webmaster, Iíve constructed several websites, which I am proud to lay claim to:

The jazzThugís Bunker (no longer active)
Tomís Webtools (no longer active)
The Mojo Phoenix Blues Band website (mojophoenix.com)
The Jackson Area Blues Society (no longer active)
Community and Economic Development(lesterschick.com)
Slipped Disc Productions (slippeddiscproductions.com)
The Crossharp Lounge website (under construction)


&nbsp &nbsp &nbsp As a website builder, I do not rely on preset programs (such as Frontpage) but rather, write my own html code so that my websites donít have a cookie-cutter appearance and implementation. It is my belief that it is better to keep things relatively simple so that any browser can navigate the website. Iím sure youíve visited some websites that are so packed with gimmickry (music, video, animation, etc.) that it takes too long for a page to load. Result: you get tired of waiting and go elsewhere. You may check out the above web addresses to see examples my work.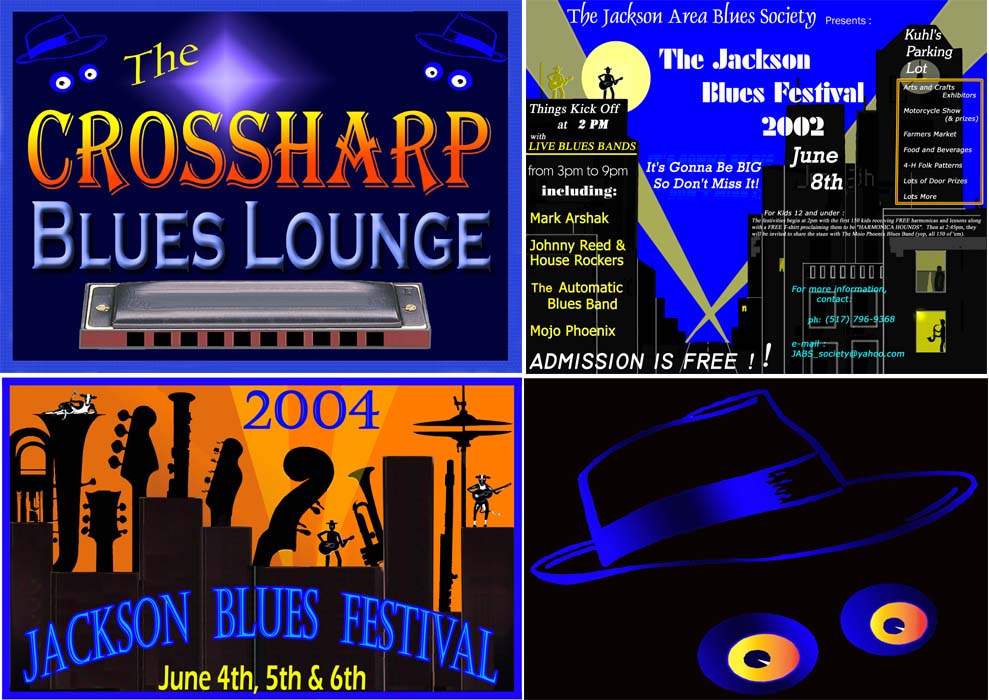 T-shirts

&nbsp &nbsp &nbsp Iíve designed T-shirts for :
The Jackson Blues Festival (4 years running)
The Harmonica Hounds (4 years running)
The Mojo Phoenix Blues Band (5 different designs)
Brassapalooza (2003)



Ad Copy/ Posters and Flyers
&nbsp &nbsp &nbsp Iíve designed many ads, programs, newsletters, etc. for the following publications:

The websites listed above
The Jackson Area Blues Society Newsletter
The Jackson Blues Festival programs (4 years running)
Brassapalozza program (2003)
Mojo Phoenix Blues Band events



Photoshop Help
&nbsp &nbsp &nbsp Every graphics artist has a favorite program that they become very familiar with and for me that is Photoshop (v.7). Photoshop is a deep program with lots and lots of capabilities. I canít claim to have completely mastered the program but Iíve certainly progressed well beyond the basics. Having taught myself, I can attest that some things would have been much easier had someone been available to help me along the way. To that end, I would be happy to teach as much as I know to someone wishing to learn more about it. Please contact me if you are interested in lessons. 517 796-9368

Old Photo Restoration
&nbsp &nbsp &nbsp I also have some expertise at restoring old cracked and tattered photos. I can resize them and most are suitable for framing after I'm finished. Of course, some old snaps may be too far gone to be fully restored but usually they can be. Call for an estimate. No charge if not satisfied.